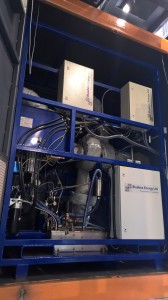 Bluebox Energy was formed in 2014 to develop energy recovery systems using turbomachinery and high speed generators as the core of a mini combined heat and power (mini-CHP) station.
We design and assemble hot air turbine systems using a turbocharger to compress air, a heat exchanger to heat up the compressed air and a turbogenerator to make electricity. The key advantages of this system over other heat recovery systems are the efficiency and high temperature air feed that can be used in the combustor or process. In most cases, we customise equipment supplied by ABB, Bowman Power, Hydac International and Cummins to produce cost effective, reliable solutions.We can supply "off-the-shelf" our DUO+ 100kW system. We will shortly be releasing our 50kW MONO system for customers requiring less power.
Since then, we have expanded our work into consultancy services still focussing on our core competencies of increasing efficiency through advanced desing and in particular high speed turbomachinery and electrical machines.
Going forwards we are committed to increasing our equipment efficiency. We have a development project for a high pressure, high efficiency air turbine system. Most of the design work is complete and manufacture of the prototype is nearing completion. At the end of the year, we expect to be testing this at a Solar Field in Spain.